Rabbi Adam and Sara Frieberg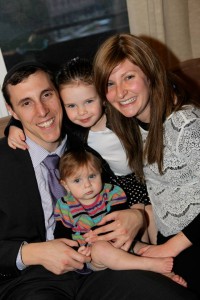 Rabbi Adam Frieberg grew up in Toronto and spent his high school years at CHAT (Community Hebrew Academy of Toronto), after which he spent two years studying at Yeshivat Lev HaTorah in Israel. He then attended Yeshiva University where he studied Business Management and continued his Torah studies. He graduated in May 2009, and then enrolled in Yeshiva University's rabbinical school, RIETS. Adam spent two years studying at the RIETS Israel Kollel (Gruss), pursuing his rabbinical ordination, and "summering" in Toronto, where he had the tremendous opportunity to serve as the Rabbinic Intern at Shaarei Shomayim Synagogue.
Adam spent his final year of RIETS in New York, interning at Beth David Synagogue in West Hartford, CT, and concurrently completing his Masters in Jewish Education at Yeshiva University's Azrieli Graduate School of Jewish Education and Administration which included student teaching two days a week at Manhattan Day School.
In August 2012, Adam, Sara and Emunah (5 years old) returned back home to Toronto, and soon after welcomed Rina (now 3). There they had the opportunity to learn with, and give back to, their hometown community, while Adam was a member of the YU Torah MiTzion Kollel, spending his days studying, learning with members of the community and teaching classes around town as well as in a local high school (Or Chaim). He also served as Rabbinic Assistant at Shaarei Tefillah Congregation. Adam loves playing hockey, squash, and hanging out with interesting people.
Sara Frieberg was born in Calgary but grew up in Toronto. She also attended CHAT and then went on to learn in Israel – first on Nativ, and then ultimately at Midreshet Moriah. She then spent one year studying at McGill University, and then she transferred to Stern College at YU, where she graduated with a BA in Jewish Studies. She went on to get a Masters in Bible from YU. While Adam was learning in Israel at Gruss, Sara had the amazing opportunity to learn at Nishmat as well as to teach at an American midrasha program. She also partook in the "Rebbetzin Training Program" that was offered to the wives of the Gruss students where she took courses about women's health and halacha, other issues that come up in communal work, and trained to be a kallah teacher. In Toronto, Sara ran the admissions office for the local Bnei Akiva High Schools. Sara loves learning, teaching, a good cup of coffee, and shopping.
Sara, Adam, Emunah and Rina love spending time with all the amazing students at Rutgers through learning, hanging out and Shabbat meals. The highlight of the week for Emunah and Rina is hosting all the students in our home for Shabbat lunch!